Going online is the primary requirement for almost all kinds of businesses these days. If you're thinking about starting a website for your car repair shop, but don't know where to start, don't worry. Building a website isn't difficult anymore. We have templates available online that make it easy for your to get started.
In the Exclusive Addons Template Library, we have several templates for different pages of a car repair service website. Those templates are a great way to get a feel for the design and layout, without having to spend much time and money. They can provide you with an idea of what your website will look like and how it will function.
In this article, we'll show you how to build a website with Exclusive car repair service templates. So let's get started.
Why should you create a car repair website?
The internet has made it possible for people to make their business popular from the comfort of their homes. Not only is this a great way to make extra money, but it's also a great way to share your knowledge or expertise with the world.
If you are a business owner who provides car repair services, you should create a website to promote your services. Not only will it give your customers a way to learn about your business, but it will also provide them with a way to make appointments and contact you with questions or concerns.
For example, most people don't know much about car repair. So if you include a blog page that provides basic to advanced know-how, car owners can learn everything they need to know about their car.
It can also help the customers in your area to find your car repair shops easily. So overall, a website can boost your car repair business on and offline.
Draw a structure for a car repair garage website
Before you start designing the website, you need to draw a structure for it. You need to list out the pages you will have on your website for car repair services. There are some pages that you would need to include on your site. Primarily, these are the basic pages to include in a website for car repair garage: Home page, About page, Service page, Shop page, Blog page, and Contact page.
In this guide, we will describe creating those pages with a couple of other pages. You can find ready-made templates for all those pages in the Exclusive Template Library.
Create a header and footer for the entire website
The header and footer are essential elements for websites. In simple words, a header is something that sits at the top of a webpage. Traditionally, the narrow strip at the top of the website is known as a header. Meanwhile, a footer is the bottom part of the web page that contains small but vital information.
Similar to other websites, the header in this template includes a business logo, a
navigation menu
, and a CTA button. On the other hand, contains links to technical pages like Terms & Conditions, Privacy Policy. It also has contact info, a subscription form, and more.
How to create a home page from a car repair service template?
The home page template has a hero section, a list of services you provide, customers' reviews, a list of products, and your shop's location on a map.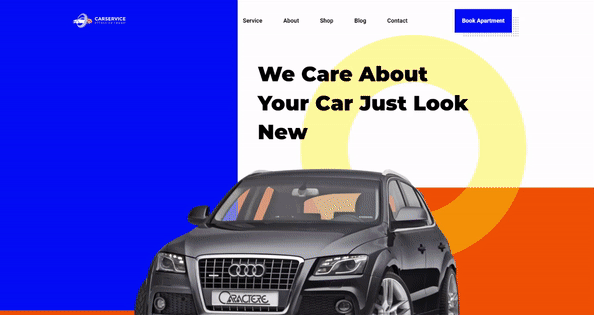 To design the home page, let's first focus on the hero section. In this car repair service template, we have added a headline and an image as usual. But to make this section eye-catchy, we have added a hover offset effect to the image. Also, we have used multicolor background for the section.
Next on the page is the list of the services a car repair shop provides. To show the services in a stylish way, we have used the
Team member widget
from Exclusive Addons. Using this widget, you can add an image, service name, and customize the style.
Showing what your clients say about your service is an effective way to create trust around your business. Customer testimonial builds confidence in your service. To show the client review, we have used the Testimonial widget. The widget allows adding the reviewer's identity along with the testimonial. You can add reviewer's image, name, and designation in the testimonial.
In the bottom half of the home page, we have added a Map view for the shop location. To show the location on map, Google Map widget is used here. Using the widget, you can show a location with its latitude and longitude. It comes with the features like the zoom lever, scroll wheel zoom, full-screen control, and so on.
In conclusion, building a website for your car garage with a template is a great way to get started. The car repair service templates from Exclusive Addons are easy to use, and you can customize it to fit your needs. Plus, it is affordable and can be up and running in no time. So, what are you waiting for? Get started today!