If you're looking to get started building Amazon affiliate websites, WordPress is a great platform to use. With WordPress, you can build simple or advanced affiliate websites without any coding or design experience. It's easy to set up and manage, and there are a variety of plugins and themes available that make it easy to create a website that looks professional. Plus, you can customize it to fit your own brand and marketing strategy.
This guide will show you how to set up a WordPress site and begin promoting products from Amazon.com. Once you have your site up and running, it's easy to add affiliate links to your posts and start earning commissions on sales generated through your website.
What is an Amazon affiliate marketing website?
An Amazon affiliate marketing website is a website that sells products that are made by Amazon. They get a commission for each sale that is made through their site. This commission can be a percentage of the sale or it could be a fixed amount.
The website owner can create a profile and submit links to the products they would like to promote. Amazon then evaluates the products and determines if the user has a legitimate interest in promoting the product. If so, Amazon will give the user a commission for each sale made through their link.
Benefit of using an Amazon affiliate marketing website is that you don't have to spend any money on advertising and you don't need to create any content. All you need to do is set up an account and start promoting the products that you sell. There are many different types of Amazon affiliate marketing websites so it is important to choose one that will fit your needs.
What makes a great Affiliate site?
Building Amazon affiliate websites is a great way to increase your web traffic and earn money through commission. However, it's not easy – and not everyone can do it successfully. You have to make your website stand out from the crowd when competing for website visitors on the internet. Therefore, you need to build a great Amazon affiliate website.
So, if you want to create an Amazon affiliate website, there are a few key things to keep in mind. According to experts, there are a few key factors that make an affiliate site great.
First and foremost, the site must be easy to navigate. It should also be well organized, making it easy for users to find the products they're looking for. Secondly, the site must have effective tracking mechanisms so that you can see how your efforts are impacting results. Additionally, the site must have clear sales copy that helps potential customers make an informed decision about buying the product.
Lastly, great affiliate sites must have a strong marketing strategy in place to support their growth. Taken together, these factors make a great affiliate website.
How to Build an Exclusive Amazon Affiliate Website?
Great affiliate sites offer a high degree of engagement and conversion. Here are steps for building an Amazon affiliate website that will make you successful:
Step 1: Choose an Exclusive Domain Name
By choosing an exclusive domain name, you'll be able to build a more valuable relationship with your customers and increase your chances of becoming an Amazon affiliate success story!
The domain name Amazon affiliate website should reflect the nature of the website and its affiliations with Amazon. This can be a relatively easy task for individuals with some web design experience but may be more difficult for those without such experience. There are a number of factors to consider when selecting a domain name, including the name's potential to rank well in Google search engine results, the target audience that the website is designed to reach, and the bendability of the name.
Step 2: Find a Web Hosting Service Provider
It can be hard to make a decision when it comes to choosing the right web hosting service provider. First, you need to consider your priority, whether you want a host that offers a wide range of features or one that is more affordable. Once you have determined what type of hosting service you need, look at the different providers available. You should also take into account the performance factors like uptime, security, support, memory, CPU speed, and bandwidth. Finally, compare prices and read reviews before making your decision.
Step 3: Install WordPress with Elementor
To Install the WordPress CMS:
To install the Elementor:
Step 4: Install Exclusive Addons for Elementor
Exclusive Addons
along with Elementor can be the perfect amazon website builder for affiliates. Moreover, to make things easy for you, Exclusive Addons for Elementor comes with a dozen of readymade templates for Amazon affiliate websites.
To use templates, first, download and install the
Exclusive Addons free version
on your site. Then purchase the Exclusive Addons Pro and install the premium plugin to get access to the exclusive templates.
Step 5: Choose the Right Templates
You may not always have the time and expertise to build websites from scratch. In this case, you can use the templates to create sophisticated web designs easily and effortlessly.
Use the Exclusive Addons Template Library to build amazon affiliate site. The template Library includes templates for affiliate home, product, product details, product review pages, and more.
Step 6: Sign Up for Amazon's Affiliate Program
To be an Amazon affiliate, you have to sign up for the amazon affiliate program. For that:
Go to Amazon Associates homepage, and sign up for the Amazon Associates account.

Submit your account information, website address, and preferred store ID.

Then answer the traffic & monetization queries, where you need to explain how you drive traffic to your site.

After that choose a payment method.

Finally, create Amazon affiliate links from the dashboard.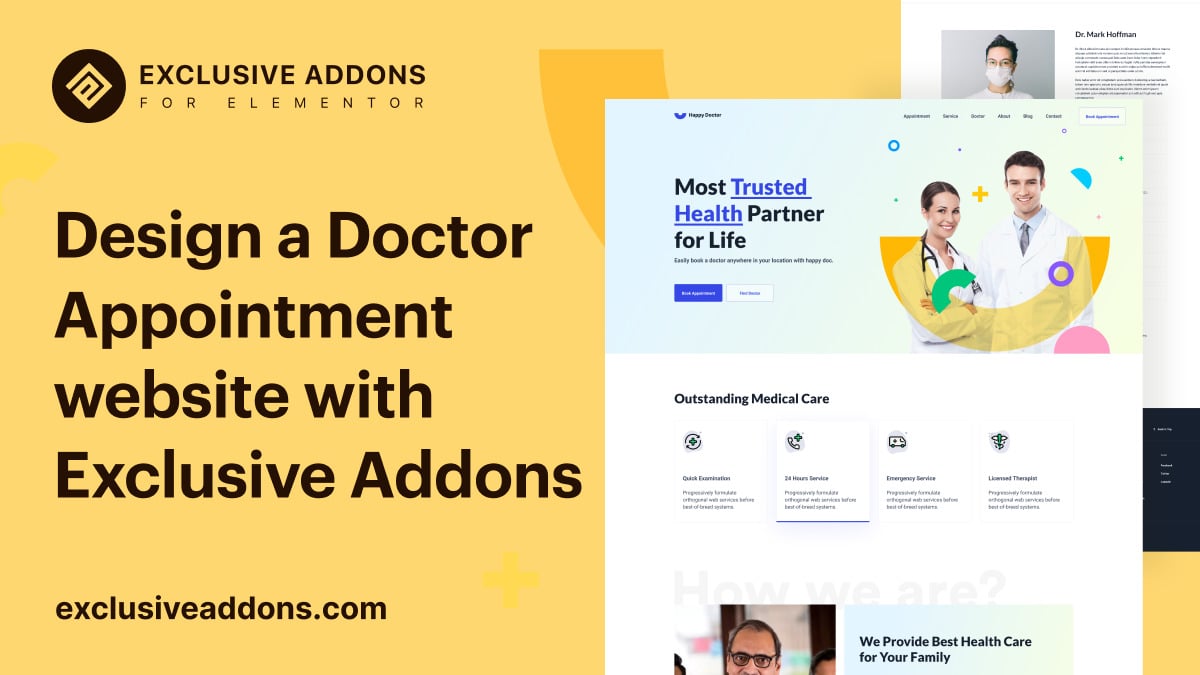 Get Doctor Appointment Template
Which pages should an Amazon Affiliate Website Include?
There are a few pages that a standard Amazon
Affiliate Website
usually has. If you are creating a website for the Amazon.com affiliate program, you should be sure to include these pages. You can also add more pages if you want.
An affiliate home page normally includes a hero section, recent top reviews, and everything to highlight. In the Exclusive Addons Affiliate home page template, we have designed the hero section with top articles, then added recent reviews. Scrolling down to the page, there are recommendations for the best products and topics that visitors may look for.
The shop page includes the list of affiliated products on the site. You can use the WooCommerce Product widget to show the products. Besides, using the Demo Previewer widget can be a good alternative as well.
Product review is a crucial part of affiliate websites. You can provide reviews for the products you listed on your website. The Exclusive Addons includes a couple of review page templates. You can show the reviews of the best products using the Affiliate – Best Product template. Also, show the recent product reviews with the Affiliate – Recent Reviews template.
4. Detail Product Preview Page
The detailed product review page includes a preview of the best products with bullet points, descriptions, and images. This gives an overview of the products to the visitors so that they can go into full detail. Use the Affiliate – Best Details template to design this page.
The single product review page shows the full review of the products. It includes key features, pros & cons, and a detailed description of the products. An option to include comments from readers makes the page interactive. Design the single product review page with the single Product review template.
Add recent information and news to create a knowledge base on your site. You can share the latest news related to the product you affiliate with. Use the Affiliate – News template to create a news page on your Amazon affiliate website. The latest news will help you drive more traffic to your site.
7. Affiliate Disclosure Page
An affiliate discloser page is a webpage on the website of a company or organization that discloses the relationship between the company or organization and any affiliates. The purpose of an affiliate discloser page is to provide transparency to consumers about how their purchasing decisions may be influenced by the affiliations of the company or organization. This type of disclosure is often required by law, as well as industry standards.
Use the Affiliate – Discloser template to create the disclosure page on your affiliate disclosure.
Privacy policy pages are important for any website that collects or uses personal information. These pages should outline the ways in which the website will collect and use personal information, and should provide clear explanations of how users can control their data. Amazon affiliate websites must comply with all applicable privacy laws and regulations, so it is important that they have clear, concise policies that accurately reflect Amazon's practices.
Create a contact us page so that the visitors can reach out to you for queries and feedback. It'll build a personal link with your website visitors Use the Contact form 7 widget that comes for free with Exclusive Addons to create a contact form on this page.
When creating an Amazon affiliate website, it's important to have an about page. This page should include your website details and contact information, as well as a description of what your site does. You should also list any special offers or discounts that you offer visitors. Finally, be sure to add a link to your site's home page. Use the Affiliate About page template from Exclusive Addons to design an advanced about page.
In conclusion, building Amazon affiliate websites is relatively easy with WordPress and Exclusive Addons for Elementor that can produce profitable results. Affiliate marketing can be a great way to monetize your website and increase web traffic. The important thing to remember is to make sure you design your website correctly and focus on creating high-quality content that attracts visitors. With a well-designed website and effective marketing strategies, you can build an affiliate website that generates significant income for you and your business.
Follow the tips and steps we have discussed above. With these tips in mind, building an affiliate website is easy!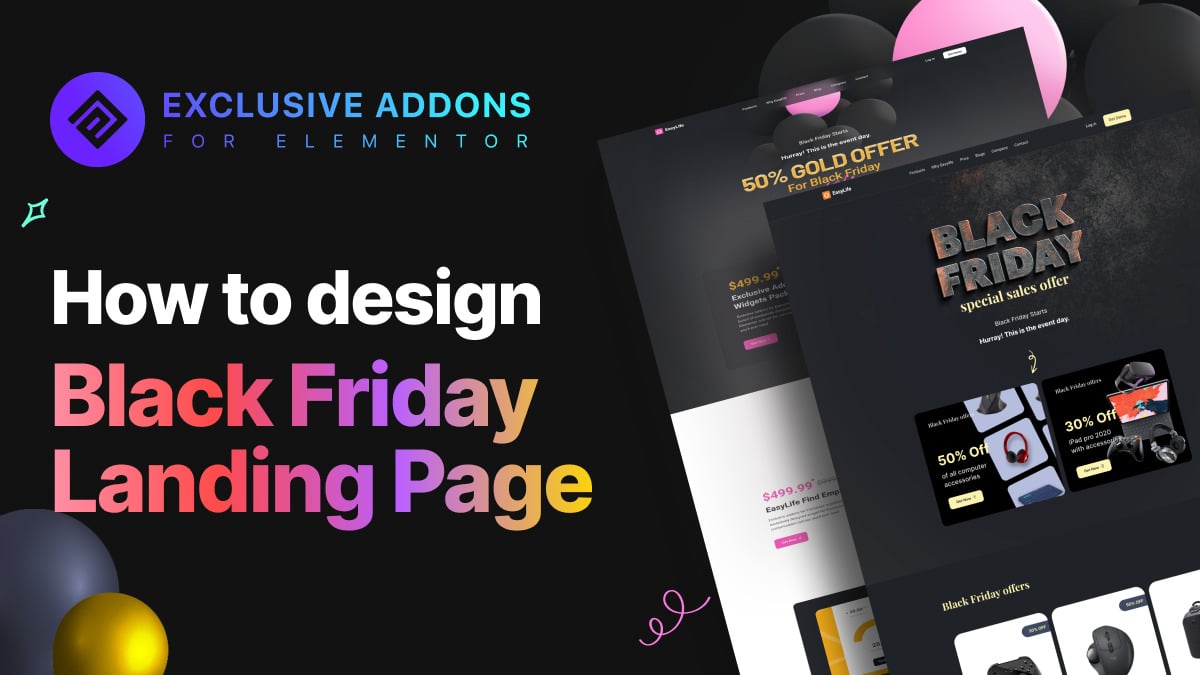 Tutorial for Making Black Friday Landing Page