WordPress is popular for its ease of use. Every task is made easy with a tool called. You want to perform an action, you will find a
WordPress plugin
for the particular task.
Search engine optimization isn't any different. Auditing your site to SEO parameters, need suggestions to improve SEO score, or finding rooms to improve, using a WordPress SEO plugin will do the job for you.
So today, we will have a look at some of the top-listed WordPress SEO plugins. Let's proceed.
Why Do You Need Wordpress Seo Plugin?
Optimizing your website
for search engines is essential today. Whether you are running an online business, informative website, or anything, the best way to lead traffic to your site is to rank high in search results.
So there's no way you can take Search Engine Optimization (SEO) lightly. However, it is not always possible to hire an SEO expert or an SEO team to optimize your site. Specially if your business is still in the initial stage.
Thankfully, plugin developers for WordPress come with a solution. You will find a good chunk of WordPress SEO plugins. Installing an SEO plugin will help you optimize the web page in the best possible.
Overview On Top WordPress SEO Plugins
It's an obvious thing that, there will be a good number of WordPress SEO plugins. So choosing one isn't easy. However, in this article, we have tried to list some of the popular SEO plugins based on their popularity, functionalities, and performance. The list starts from…..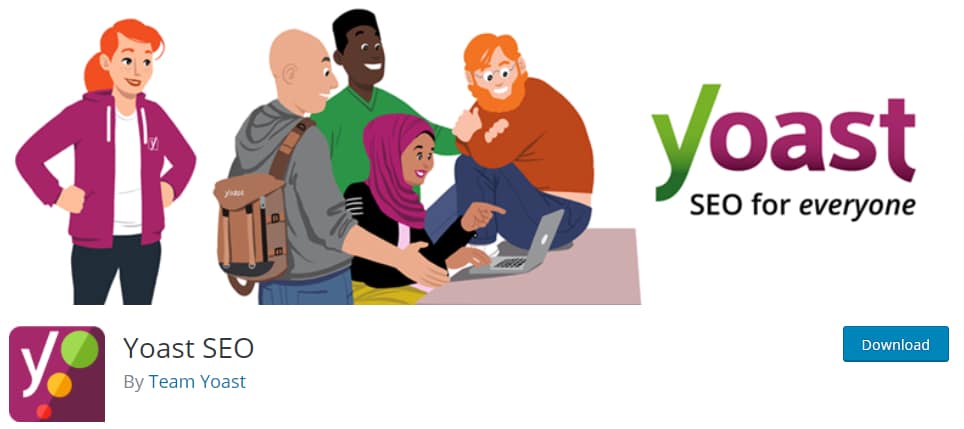 The top favorite horse in the best SEO plugin for WordPress. With over 5 million activations, Yoast is running well ahead of other WordPress SEO plugins, in terms of popularity. The plugin is popular for a reason. It helps you improving page SEO score so as readability.
Put a focus keyword and Yoast will give you suggestions to optimize the web page for the keyword. The plugin indicates where you should use the focus keyphrase on-page and if you have used it or not. You can set URL for a web page using Yoast. Putting a Meta Title and Meta Description is hassle-free with this on-page SEO assistance.
The readability checker makes the plugin more helpful for the user. It analyses readability by checking copy score, percentage of transition words, paragraph length, sentence length, and everything to improve the reading experience.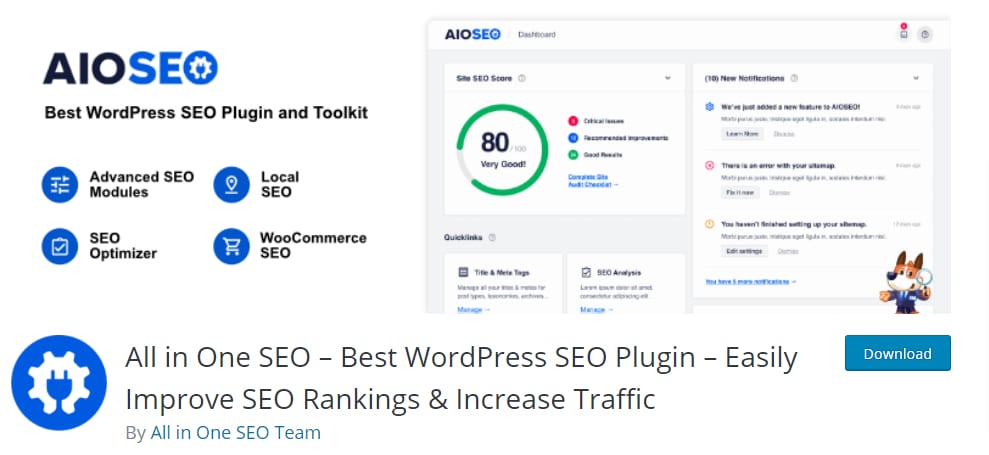 One of the two plugins with over a million activations. It's comparatively easy to plugin considering how incredibly powerful it is.
It automatically prioritizes issues, showing you what needs to be addressed immediately as well as missed opportunities for optimization. Simply follow the steps outlined in the checklist and you'll be well on your way to maxing out your site's potential.
There are explanations for everything you do, if not links to guided walkthroughs. You can really learn what you're doing as you go.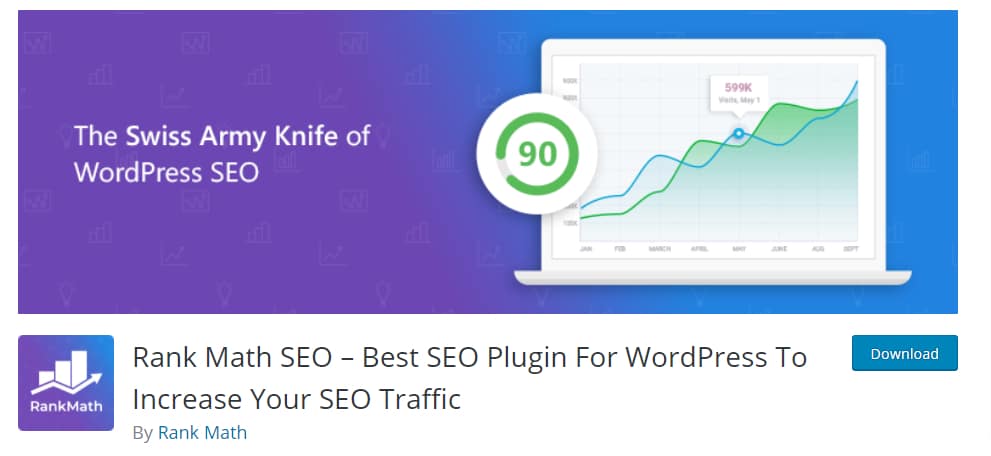 The plugin claims to have everything that you need in an SEO plugin. Kind of a one-stop-center for SEO support. With the Rank Math plugin, a 40 factor-based tool runs the SEO analysis for every web page or post.
XML Sitemap module comes bundled with Rank Math, and the plugin also pings search engines automatically once you make any changes to your posts. Rich Snippets support is included with an option to choose from 6 different types of snippets like Article, Product, Recipes, Events, Video, Local Business, etc.
The user interface is very clean, and the options are easy to understand. It gives you options to automatically add alt or title tags to images that are missing them.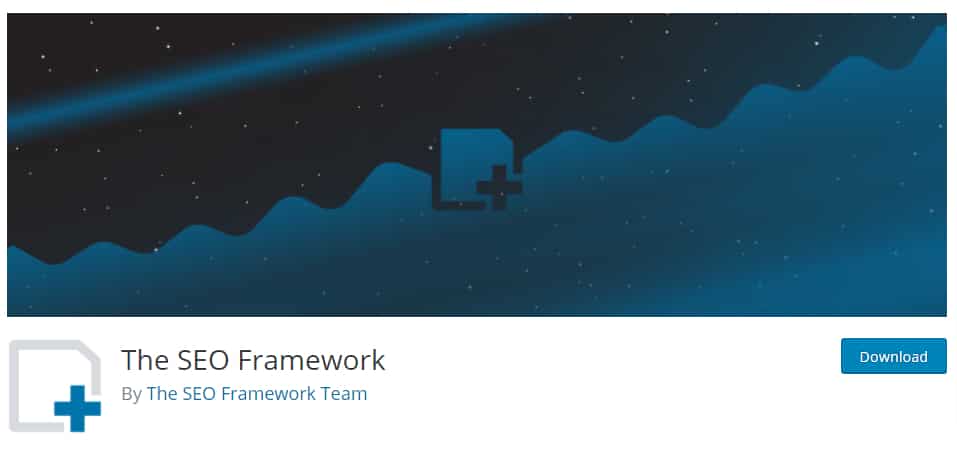 A fast, compact SEO plugin for WordPress. SEO Framework is a well-developed plugin that follows all the WordPress and search engine guidelines. A smart WordPress plugin, faster and lighter than its nemesis.
SEO Framework only sells the quality to you. You will find a big part of the must-needed features in the plugin without having to pay for the premium package. You will find it easy to set up the plugin as it comes with pre-configured settings for SEO.
It gives you scope to be more natural with your writing. as they focus on the subject instead of focusing on a keyword. A graphical meter scale will let you know how optimized your post is. This feature will help you to predict the performance of your post on search engines.
The plugin probably has the perfect interface for beginner-level users. If you're running a local business, SEO Framework may come in handy for you.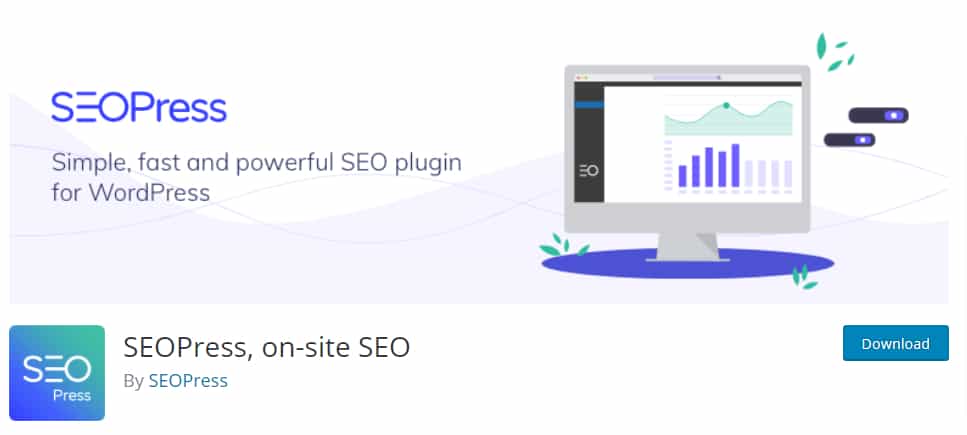 A multi-language plugin, suitable for those who are not yet ready to spend much for an SEO plugin.
Create XML and HTML sitemaps, track your visitors with Google Analytics (with RGPD compatibility), and optimize tags (Open Graph and Twitter Cards) for sharing your content on social networks.
The free version also provides content analysis to help webmasters write better SEO-optimized posts. Developers can use more than 75 hooks to set up the plugin as they wish.
It lets you add Google Analytics tracking to your site in seconds. You can exclude user roles from tracking, set up custom dimensions, enable remarketing, demographics, and interest reporting, track PDF, DOCX, XLSX, downloads, IP Anonymization, cross-domain tracking, and more.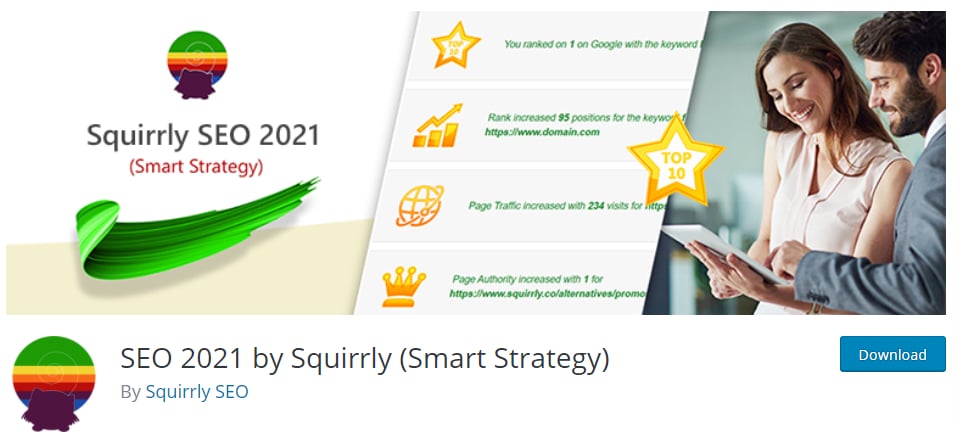 Popularly know as Squirrly SEO, is a simplistic plugin good match for people with little SEO knowledge. It is unique in many ways. Squirrly SEO gives runtime suggestion, that means it shows results as you writing the article.
The keyword optimization is done as you're writing the article. This is a little easier than Yoast where you often have to save the article to see suggestions and results. If you plan on replacing an old SEO plugin for WordPress with Squirrly, it still keeps all of your settings from the previous setup. There's a tool that analyzes your competition to see how you can outrank it.
Squirrly includes content reports, which you can send to other people in your organization. For example, a writer might need to learn more about SEO, so you might send it to them after they write an article.
You receive progress monitoring on a weekly basis, along with a solid tool that shows recent tweets about your topics. This provides both inspiration and ways to improve your content.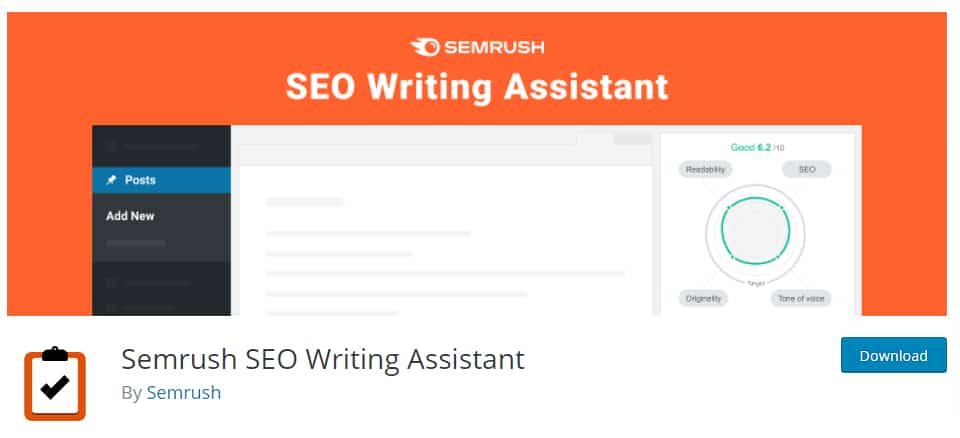 Semrush is an industry leader when it comes to SEO-expertise. It now makes SEO plugins for WordPress named Semrush Writing Assistant. You'll get to draw on Semrush's amazing platform for help and guidance as you draft content for your sites.
You can use Semrush to find organic keywords and terms to rank for and the plugin's competitive research functionality lets you compare your competitor's rankings and find new terms to gain a leg upon them.
Semrush's SEO Writing Assistant tool also improves your overall website content by helping you write more search-friendly content. It does this through tight integration with WordPress.
On-page user experience of your website heavily depends on how you optimize it. So you need to find SEO assistance that can help you to optimize your website at full stretch.
In the article, we have tried to focus on the factors users commonly look for. Have you found the SEO plugin you are looking for? Let us know if this article was helpful. Leave a comment below.
Note: Each plugin we featured has been independently selected and reviewed by our editorial team. And their details depend on the article publish date. And some of the images used in this article is collected from wordpress.org. Posts may contain affiliate links. If you buy something through one of those links, I might get a small commission, without any extra cost to you.