What is the most effective way of mass communication in modern era? It's the magic box, known as social media.
The old concept was, social platforms are the place where people gather around to gossip, share thoughts, and post photos and videos.
Things are changed now. These powerful platforms playing a vital role in growing small to medium range businesses.
Social media transforms how you promote your business, interact and provide service to your customer.
In this deep ocean, you can literally sell anything if you put a proper effort into it.
Why link social profiles with your website?
Your presence on social platforms means a lot these days. If you aren't active on those platforms, you might go missing in action. The same goes for your website.
In present times, posting quality content, optimizing it, putting all the efforts on the site isn't just enough. You have to bring the website into social media to achieve popularity.
No other platform can bring as many visitors to your site as the social platforms. But how to make the presence known on social media like Instagram, Facebook, Twitter, Pinterest, and so on?
Creating pages, posting regularly is one way. But what can you do from the website end? Putting social share options of your web content, showing your social profile, or adding social icons on the
website footer
are few approaches you can try.
Guess what? If your website is built with Elementor, you are in for a treat today. Just go through this article.
Social Media Widgets for Elementor
Building websites with
WordPress
is easy in every way. Thanks to the large collection of widgets including WordPress social media widgets for websites.
However, with
Elementor
, you will find a lot more of wp social media widgets. The popular page builder offers:
Each widget has its individual functionalities.
Finding you on social media is easy with
Social Icons
widgets. Find
Elementor icons
you need, and link your website to social platforms.
With Facebook Page Feed, you can place your Facebook page in a like box within your website.
With Facebook Like Button, to encourage your visitor to Like your content on Facebook.
Facebook Comments widget lets your readers comment on website posts using their Facebook account.
You can embed Facebook posts, comments, and videos via Facebook Posts Embed, Facebook Embed Comments, and Facebook Video Embed widgets.
Exclusive Addons Brings Amazing Social Media Widgets
While we have plans to increase our collection of wp social media widgets, we currently have three of them on board. Three amazing social media widgets for Elementor with full of functionalities.
Get an overview of those widgets.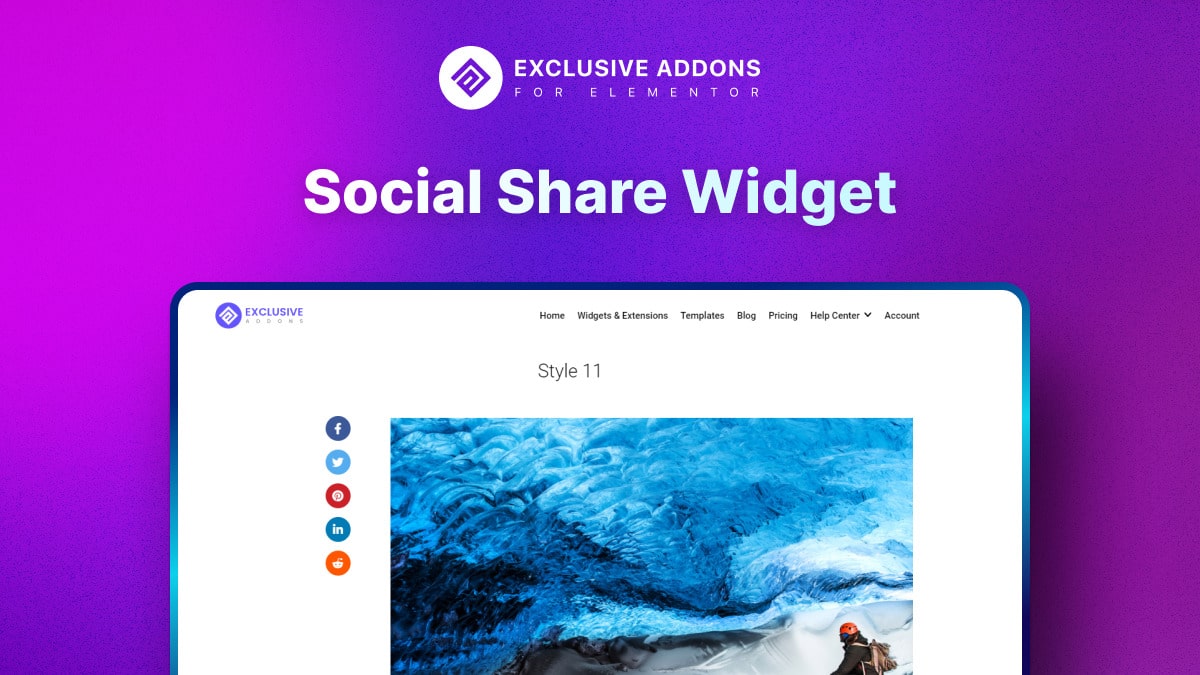 Suppose, you have posted great articles on your website. Now, you wish to have a higher reach for it. You want people to talk about the content, share it with their friends, and colleagues. This widget can help.
Social platforms are the place for discussion. Users put their views on a topic. What they liked about it, what they didn't. They also provide constructive suggestions to improve.
Remember, these discussions can actually create hype about your content. To some extent, it may drive high traffic to your site.
Using the Social Share widget, you can let your user share a post, page, or any of your web content to their social profile.
This widget supports almost all popular social platforms like Facebook, Twitter, Pinterest, Linked In, and Reddit.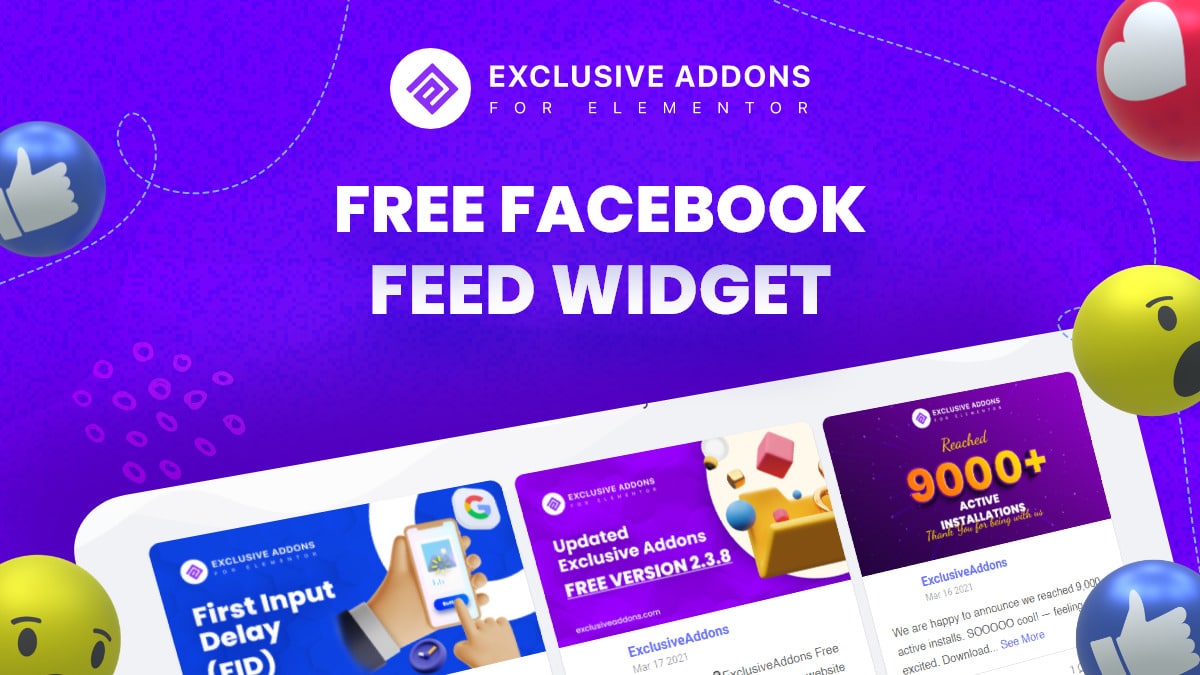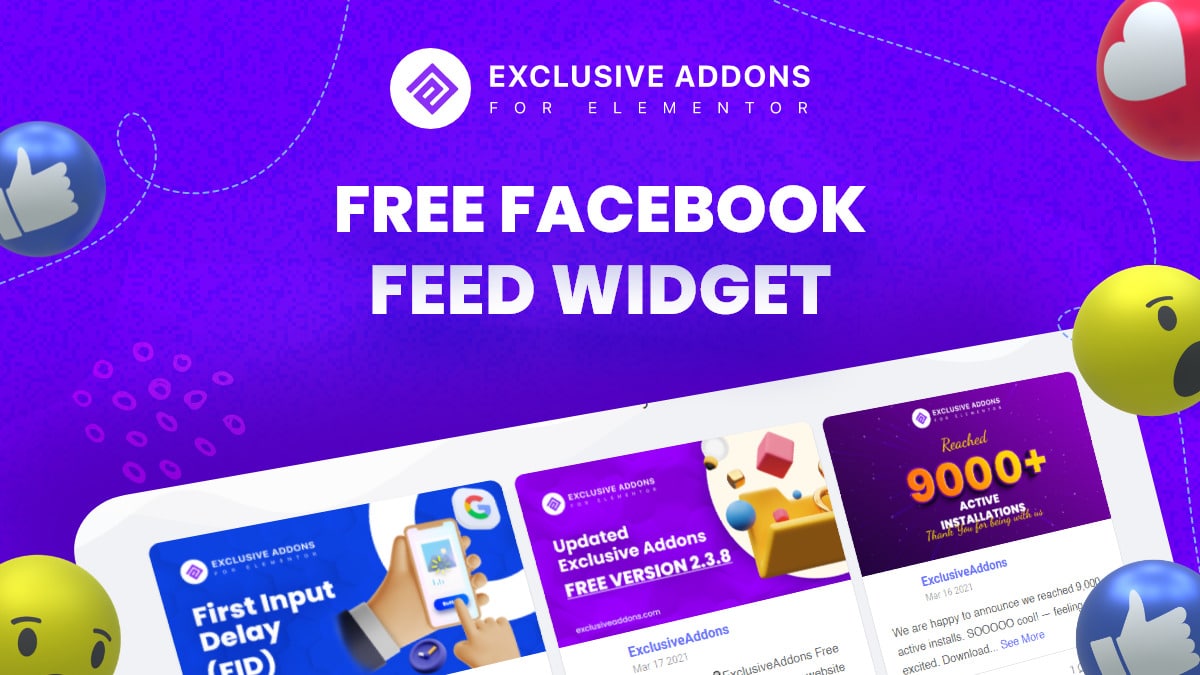 Bring your Facebook timeline to your website. A remarkable way to increase visitors engagement.
Greater traffic to the website is essential. But don't forget about user engagement. If your visitors don't spend enough time on the site, greater traffic will only increase the bounce rate.
Social media feed widgets like Facebook Feed and Instagram Feed can help you with this.
With the Facebook Feed widget, you can connect your visitors to your Facebook profile.
This social media widget from Exclusive addons lets you display your posts from your page or personal profile of the most popular social site on your website.
This is A great way to engage the visitors by showing Facebook feed stylishly and elegantly.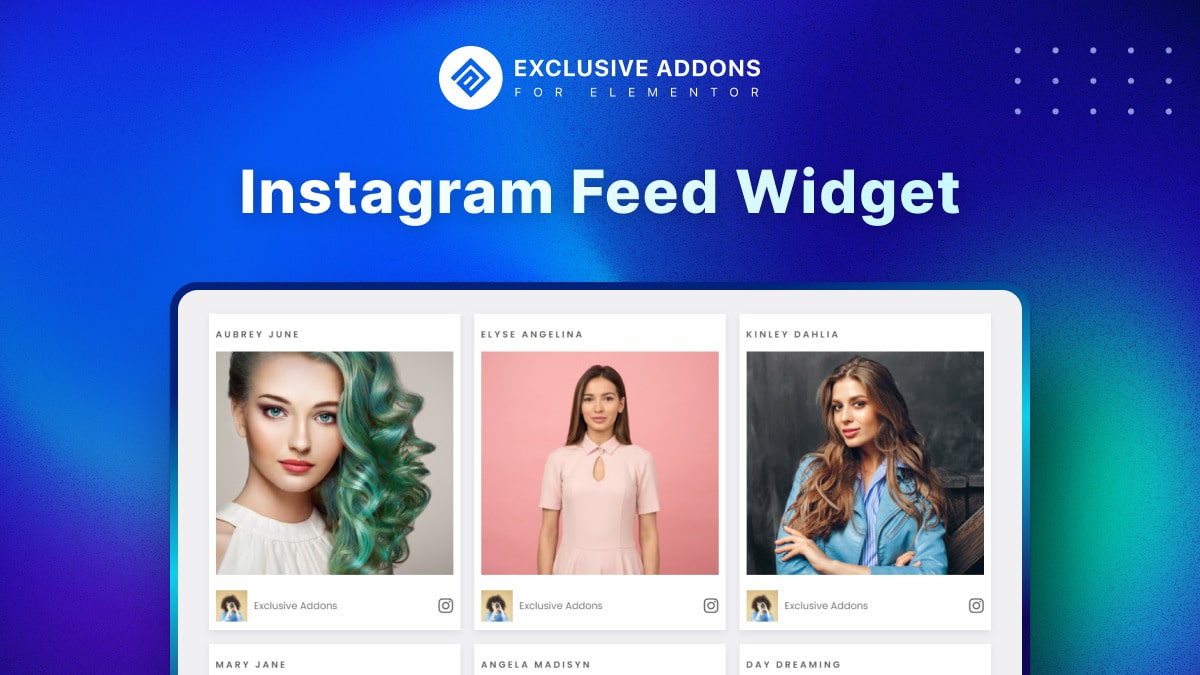 Instagram is a trending social platform to post photos. People go there, browse photos for hours. If you have an active Insta handle, you might have a good number of followers too.
What if you can bring your followers to your website? Yes, it is possible, thanks to the
Instagram Feed widget
from Exclusive Addons.
You can display your Insta Feed on your website seamlessly. But what will you get by adding your Instagram photos to the site?
This Instagram widget will surely increase visitors engagement. It's like a gallery where all the pictures are on display.
Basically, you will be creating a customize Insta feed on your website itself. And it has an alternative advantage also. You have the opportunity to increase your Instagram follower via your website.
Social Media is a hub. It connects all the dots to help you grow. And if you have a website, boom! Linking your social channels to the website is a confirmed masterstroke.
These social media widgets for Elementor will make things super easy for you. From shared web content to showing social feed on the website, you can do it all with those widgets.
Along with these, We have a bag full of usable
Elementor widgets
to help you build complete websites. Have a tour and explore all the amazing widgets from Exclusive Addons.