Traditionally, creating a WordPress website includes multi-corner chores. To find a host, and domain name, installation of WordPress, and set up a page builder; the process involves tasks that depend on multiple different platforms, making it a bit complex for the users.
How about a one-stop platform that would include all these essential processes? Elementor, the popular WordPress website builder has thought about it and came up with a solution. Named Elementor Cloud Website, is a breakthrough that changes the traditional way of creating WordPress sites. A new way that involves no to little
coding knowledge building websites
.
In this article, we will discuss the Elementor Cloud Website platform, what it is, what it offers, and reasons to choose this service. Let's get started.
What is an Elementor cloud website?
The Elementor Cloud Website is a new way to build fully hosted WordPress websites with little to no coding knowledge. An all-in-one website building platform includes premium hosting, domain name, pre-installed WordPress and all of Elementor Pro features not to mention.
In short, it brings all the basic components to building a website under one roof. So instead of taking the hassle of going to different platforms, you can get all the services in one place, i.e Elementor cloud website.
What does the Elementor cloud website include?
As mentioned earlier, the it includes all the essential elements to create a WordPress site. The complete package comes the followings:
As mentioned earlier, Elementor cloud website is based on Google Cloud Platform that ensures to-tier security and reliability. The hosting comes with a free custom domain connection and a Content Delivery Netword (CDN) by Cloudflare. The platform is as good as to provide 100 GB bandwidth, 20 GB storage and capable to handle 100K monthly traffic. This also includes SSL certificate, daily backup, and the site lock feature.
Next comes integrating a CMS. The Elementor cloud service takes away the technicalities of setting up the CMS and has the WordPress installed to your website. You can get the easy access to the WordPress admin panel from the Elementor cloud dashboard. Therefore, you can use all the WordPress functions, themes, and plugins like usual. Moreover, the Hello theme comes default with it.
Access to Elementor Pro features:
Above all, Elementor Pro is included in the package. The platform gives you access to all of Elementor's Pro features. This includes features like live editing, responsive design, 100+ widgets, 300+ templates, and more. Moreover, the Hello theme comes default with the Elementor cloud website.
There's no need to be a web developer or designer – with Elementor cloud services, you can quickly and easily create a website from scratch.
Step-2: Next comes purchasing the license. Complete the payment procedure. Once done, you then have the access to the Elementor cloud dashboard.
Step-3: To start building a website, navigate to the top right corner and click to "Create Cloud Website" button.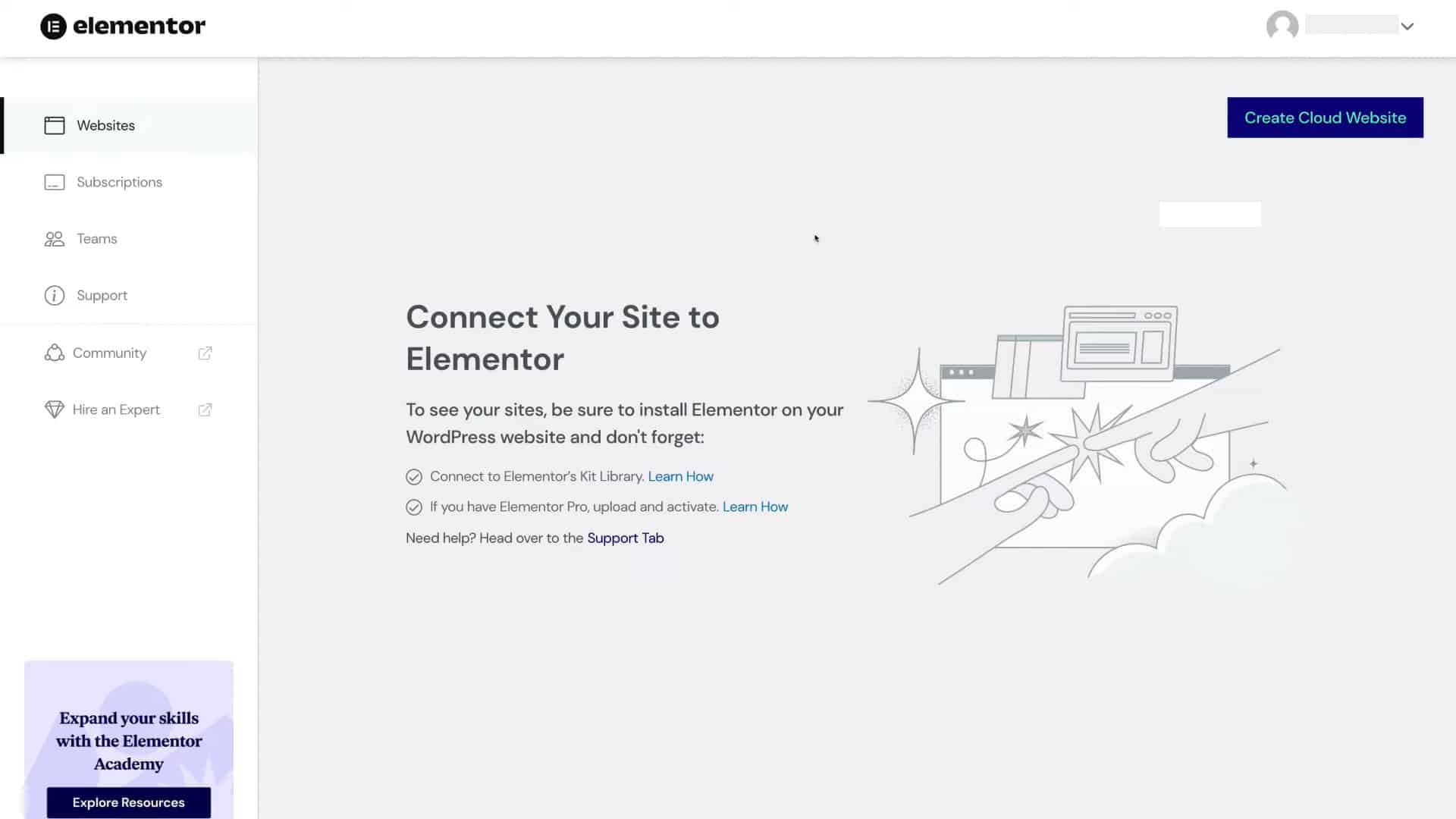 Step-4: Then set a name for you website and you will get a free domain. However, you can purchase a custom domain and use it for your website.
Step-5: After that select what kind of website you are building. Next you have the option to choose a pre-made websites kit. Whether you choose on of them templates, or decide to start from the scratch, you will start creating your website there on.
Coming back to the Elementor cloud dashboard, this is where you can operate websites, subscriptions, and more.
For the websites, you will have sections for each website you have created. You can manage the sites, open the WordPress dashboard, and start editing your webpages witht Elementor here. If you want keep your site from search engine, your can use the Site Lock option. Under the Subscriptions, you have the details of all your subscriptions.
Is Elementor cloud website worth considering?
Essentially, it is a standard service using the security features of Google Cloud Platform. However, it offers the advantage of being on Google Cloud and for that reason will likely run faster than the shared hosting plans of many budget web hosts.
They've prohibited a lot of popular WordPress migration plugins. They'll tell you that you can export your website to another host, but they make putting a new host together a little tougher by prohibiting the use of several popular migration plugins.
Considering the price of Elementor Pro for web hosting is just $49 per year, you're essentially paying $50 for website hosting. And, considering the fact that it is hosted on the Google Cloud, it is likely that this is a quality hosting service and your website will likely do well.
In conclusion, Elementor Cloud is a great way to manage your website and keep everything in one place. It's easy to use and has a lot of features, so it's perfect for anyone who wants to take their website to the next level. If you're looking for a way to improve your website and make it easier to manage, Elementor Cloud is definitely worth considering.