Email marketing is always an effective way for a marketing campaign. Businesses around the world use email to have more interactive and personalized communication with their clients, subscribers, and potential customers. The email marketing services reduce the time and effort to run email campaigns but maximize your opportunity to get the best outcome.
There are plenty of email marketing platforms like MailChimp, Emma, Aweber, Constant Contact, Campaign Monitor, and more. These services provide plenty of features like personalized email, significant data tracking, and more.
If you are looking for the best email marketing services and platforms, you have come to the right place. In this article, we will review the most popular email marketing services for you to decide which one suits you the best.
What is email marketing service?
Email is one of the most popular forms of online communication. You can build direct conversations with your customers and subscribers through email communication. However, managing thousands of emails isn't easy. Sending the messages, personalizing them according to the user base, observing the feedback; too much to do for manual operation. Here come the email marketing services to help you.
Email marketing services are an essential tool for any business. These services let you collect email addresses from potential customers to send them promotional emails, newsletters, and other information about your business without having to rely on costly spam filters. Some email marketing providers may also manage the content creation process for you. They'll often keep track of who has opened emails, clicked links, or unsubscribed from your list.
In short, email marketing services can be a great way for businesses to reach and engage with their customers.
Best email marketing services and platforms
At this point, we will be reviewing the most popular email marketing services and platforms that can help you run email campaigns. Let's go through the list.

Let's kick things off with a beginner-friendly service. A useful tool for email marketing. Constant contact has been the leading provider of email marketing solutions for over 20 years. They have a suite of products from affordable basic features to advanced features, all with support and training to help you get started. From email lists, contact, to email templates and marketing calendars, Constant Contact manages everything for your marketing campaign via email.
The service provides the ultimate number of emails with easy feedback. You can track the emails you sent, can see the open rate, click-through, and subscriber data. The platform provides a full report on your email campaign.
The drag and drop email template creator also give you 100+ readymade template, all of them are mobile optimized. The service also comes with features like list segmentation, a built-in social media sharing tool, Facebook ads integration, e-commerce integration for Shopify stores, and more. You can also set autoreply by triggering the welcome message.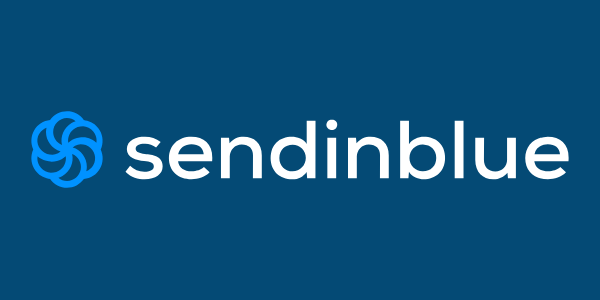 Sendinblue is a self-hosted email marketing solution that allows users to create and send unlimited emails with the possibility of tracking the success of each campaign. The tool features a rich text editor, HTML editor, and autoresponder functionality that also allows for contact management, list building, and the creation of surveys. It is remarkably easy to set up an account and configure Sendinblue so that its applications can be tailored to suit individual needs.
Sendinblue is a system for sending bulk emails. It has features such as customizable templates, CRM integration, and powerful analytics to help marketers better understand the effectiveness of their campaigns.
The service offers a set of features including personalized content, send-time optimization, laser-focused segmentation, A/B testing, and more. With the Sendinblue service, you can even transactional emails. So along with marketing emails, you can send account confirmations, purchase, and order updates with the service too.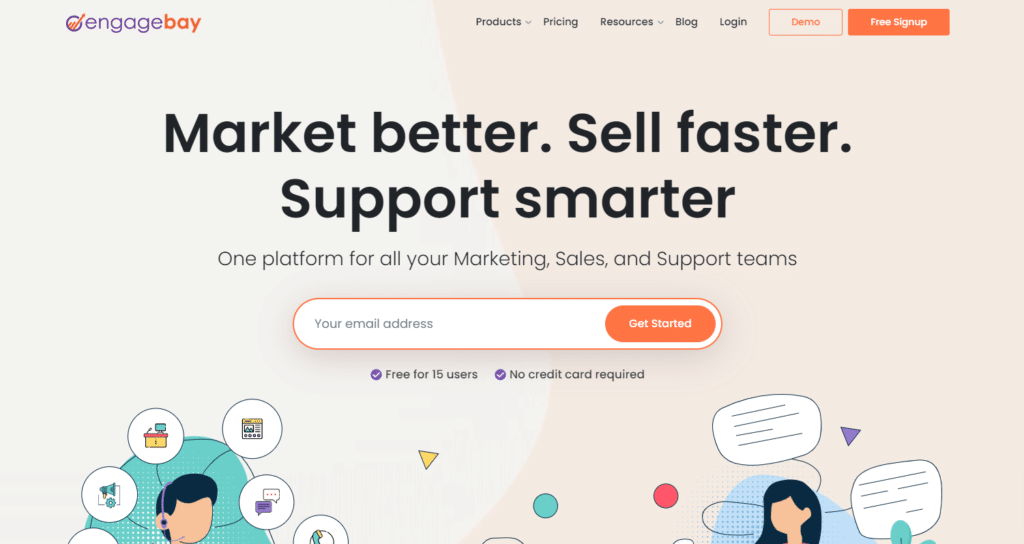 EngageBay
is a powerful, yet easy-to-use email marketing platform that helps businesses connect with their customers and followers. It allows you to easily create and send newsletters, automated emails, and targeted campaigns.
With the help of EngageBay's many email marketing tools like broadcasts and sequences, you can stay in touch with your customers and inform them about new products or services, coupons and discounts. EngageBay allows you to create responsive newsletters that will look good on any device thanks to its mobile-first approach. The platform also provides a selection of pre-made email templates that you can easily edit if needed. You don't have to do it from scratch!
EngageBay is not just a tool for sending emails though. It gives you an opportunity to put together automated workflows that will save time and boost productivity. For instance, you can easily send triggered messages based on user's activity. For instance, the software can send welcome emails to new subscribers automatically or send follow-ups to customers who have subscribed to your newsletters but haven't made a purchase yet.
EngageBay's reporting dashboard is also designed to keep things simple for one and all. The user can easily see how many subscribers have received your emails, how many have opened them, and how many have clicked through a link.

Mailchimp is one of the most popular email service providers on the list. It is a popular marketing automation platform. It is easy to use for beginners but has more advanced features that are only accessed through API-guided customization or with the help of an online chat or phone call. The API integrates with over 1000 marketing tools and the software has extensive knowledge on how to create marketing campaigns based on email history.
With the email marketing service, you can send marketing mails to build emails, social ads, landing pages, postcards, and more. Mailchimp lets you create multichannel campaigns to reach your targeted audience.
In this platform, you can automate your email marketing and add a personal touch with less effort. Besides, you can create better email content with easy-to-use design tools and templates.
Furthermore, Mailchimp serves insight reports on user data. As they have a huge customer base, the service can provide a more detailed report. Therefore, you can get a clear view and take more decisive action to boost your email campaign.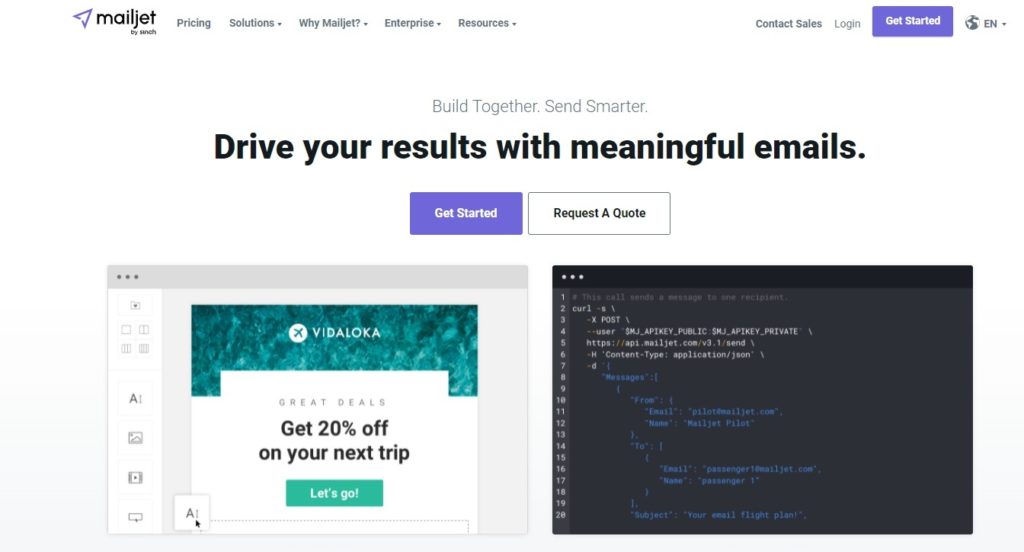 Mailjet is a company that offers email marketing services such as newsletters, campaigns, and autoresponders. They offer cross-platforms such as HTML and text-based applications, as well as APIs for both design and development. Mailjet will allow you to target your desired customers with dynamic content and segmentation based on their purchase history, amount of emails received, and more. You can also track which emails were opened and click reports with Mailjet's automated tracking system.
With Mailjet's comprehensive and intuitive email editor, all you have to do is insert simple text, image, CTA button, and the items you like to create an appealing visual email template. They also have ready-made templates too. Moreover, all of the designs you create, or the readymade ones, are responsive to different devices. Furthermore, Mailjet provides well-drafted analysis to help you optimize your campaign performance.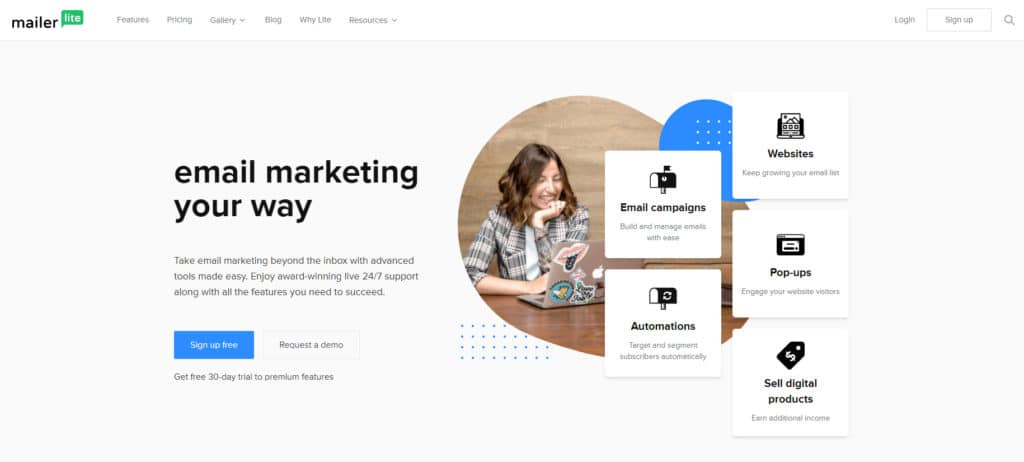 Mailerlite is a marketing automation platform that combines email, one-to-one marketing, and analytics. It provides integration with Salesforce, Segmentation, Facebook Ads, Google Adwords, and Bing Ads. Mailerlite also offers detailed reporting so you can see which emails were opened and when. The Mailerlite app lets you create advanced segmentation based on customer behavior. You can design your own custom campaigns to deliver the right message at the right time to the right person.
With the help of Mailerlite's drag & drop, rich-text, or custom HTML editor, you can create amazing newsletters and give design dynamic emails. Pre-designed templates will also help you design professional emails with ease. Moreover, by adding pop-ups, forms, a glimpse of the landing page you can attract your targeted audiences to grow your subscribers base.
Besides, you can optimize email content with features like surveys, A/B testing, and segmentation and make the emails more effective. Mailerlite also comes with email automation and a personalized emails option.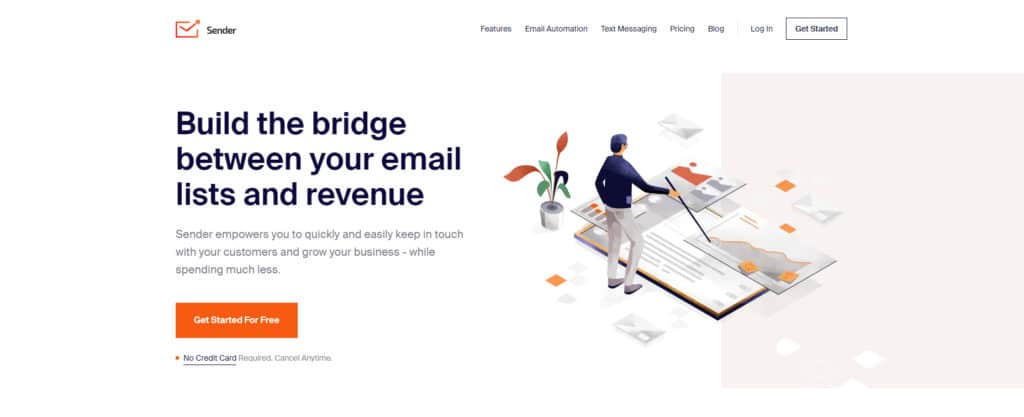 Sender is an email marketing platform that can help you build a bridge between your email subscribers list and revenue. This service provider lets you can create sophisticated and branded emails to grow your business.
In terms of design, the platform comes with the drag & drop editor, where you can simply drag and drop email blocks and create professional newsletters. Also with the custom HTML editor, you can code the custom email templates. Moreover, they have responsive pre-made templates to help you create attractive emails. You can also integrate automated email replies. You can trigger welcome emails, birthday emails, purchase follow-up messages, and more.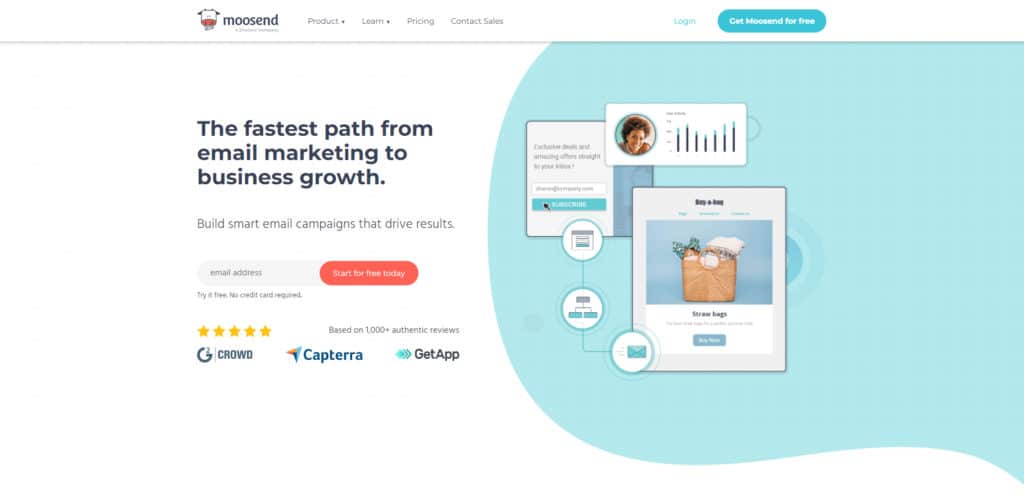 Moosend is an all-in-one email marketing solution that enables businesses to grow their audience and engage them effectively with email marketing campaigns. The platform has an intuitive drag-and-drop editor that will make email creation effortless even for beginners without technical skills.
Moreover, the platform offers powerful email automation options to deliver personalized messages, segment your email list and make more sales while saving time. You also get automation workflows that help you set up the essential automated campaigns in no time.
What's more, Moosend has a rich email template library, sporting a variety of designs for different industries such as eCommerce, business, travel, blogging, and more. When it comes to
lead generation
, the tool equips you with subscription forms and landing pages to turn your traffic into paid customers.
Last but not least, Moosend provides you with rich reporting and analytics to track your campaigns' performance and collect crucial data for better decision-making. All this, though a clean and straightforward analytics dashboard.
Drag-and-drop email newsletter builder

Advanced email automation tools

Lead generation features (subscription forms, landing pages)

Minimal learning curve

Affordable pricing

Excellent deliverability
Not many integrations

Basic signup forms
09. Email Customizer Plus for WooCommerce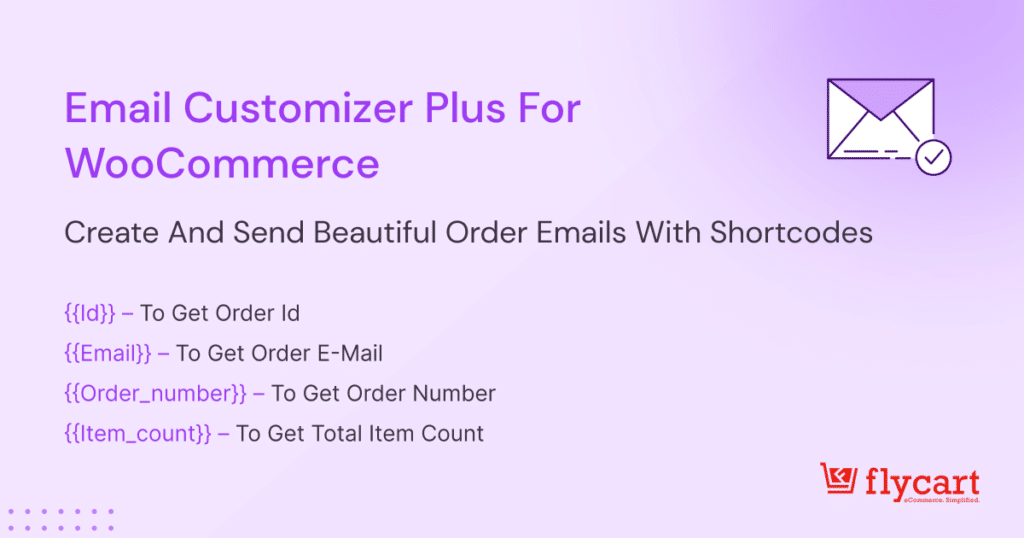 Every email connects with your customers and has the power to boost your brand value. Email Customizer plus for WooCommerce plugin is the ideal solution for all WooCommerce stores. You can customize your transactional emails easily with a visual drag-and-drop editor. This plugin helps you to build your brand by sending well-designed transactional emails.
This Email Customizer customizes everything in the WooCommerce Order Notification Emails. It comes up with a visual drag and drop editor where you just drag and drop to add images, text, order summary, and more. The plugin has impressive features such as Readymade email templates, Live preview,
WPML support
, export email templates, shortcodes, and moreover, you can
view your WooCommerce
emails across all devices. Email customizer plus offers to send test emails before going live with your customized email template. Drive Quick sales and make customers remember your brand with better-looking emails.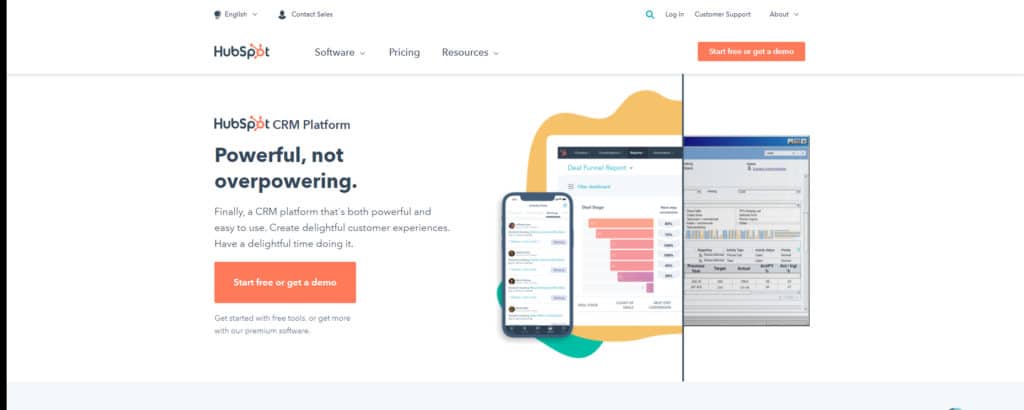 HubSpot is a well-known CRM platform that comes with handy email marketing tools. The platform lets you design and deliver professional emails by adding more human touch to them. You can create, optimize, and personalize your marketing email and improve the results with HubSpot email marketing tools.
The service provides accurate data that helps you analyze your customer base and then send them more personalized emails that may attract consumers. Moreover, the platform generates relevant subject lines, CTAs, and links. It will definitely help you get more clicks and conversions.
In terms of creating custom email layouts, HubSpot reduces your dependency on designers and developers. You can easily create beautiful custom emails and newsletters with the drag & drop editor. Readymade templates are also available for use. Furthermore, the platform comes with features like A/B testing and analytics that let you optimize the campaign's performance.

Drip is an email marketing service that helps you send personalized emails to the targeted customers. It helps you to run email campaigns more smoothly and drive more conversions. Drip campaigns can be set to send out at any interval, even one message per day, and are sometimes combined with triggered event-driven email automation.
You can choose pre-built templates from Drip's template library easily. However, with the HTML editor, you can create full custom email layouts. Furthermore, Drip brings automation to your email system. If you are running an eCommerce business, you can set automatic welcome messages, cart emails, purchase emails, and more. Moreover, you can increase the conversion and get better engagement with Drip's email segmentation and personalization features.

AWeber is a platform for online marketing that specializes in email marketing. This email marketing service includes a set of tools that gives you the ability to segment contacts into groups, build campaigns, and track analytics. These capabilities have been proven to have a significant impact on conversion rates, both from marketers and from customers.
The AWeber provides more than just email through an array of tools for online marketing such as automation, integration with social media platforms, dynamic content creation, and personalized messaging. This email marketing platform lets you reach more people with our email campaign. With all their tools you can create professional emails with ease.
The platform integrates with Canva. Therefore you can design a creative beautiful email layout using the functionalities of Canva without leaving the AWeber platform. You can send personalized emails using the features like automation, segmentation, and tagging. Add to that, the drag & drop feature lets you create a custom layout while the pre-built templates with reports and analysis make it quicker for you.

ActiveCampaign is an email marketing platform that enables businesses to create and manage customer communication campaigns. With ActiveCampaign, users can create marketing email campaigns; monitor their list size; set up automation, and track their engagement metrics.
ActiveCampaign is an email marketing platform that enables businesses to create and manage customer communication campaigns. With ActiveCampaign, users can create marketing email campaigns; monitor their list size; set up automation, and track their engagement metrics.
This email marketing platform allows marketers to create and maintain communication campaigns with customers. The service provides the user with the ability to monitor their mailing list size, set up automation, and track engagement metrics.
Automated email marketing services can transform the way you reach out to potential customers. A lot of people are on hold because of this product, and it is one of the most sought-after methods in the industry.
We have listed the emails that can really boost your email marketing with a handful of tools they have. Finally, it's your call to pick the best service that best matches your business.
So choose among those email marketing services Send your message with confidence with automated email marketing services today!