Is your WordPress site secure? Is the security of your WordPress website tight enough?
If not, your priority should be to
secure your website
. Take steps to prevent hackers and vulnerabilities from affecting your site or blog regarding WordPress security.
WordPress has remained one of the most popular CMS platforms available. Due to its popularity and the significant number of sites that run on WordPress, the platform is a constant target for attackers.
Do you know this Stat- The average website is attacked 44 times every day and on average- 30,000 new websites are hacked every day. And if any of those attacks are successful, it could seriously hurt your business online.
Note: This Data source is "Yell Business" which article published on Jun 22, 2020.
Using a security plugin could help
Building WordPress sites is easy. Thanks to the endless collection of
WordPress Plugins
. You will find several plugins for every chore. The same goes for security plugins.
One of our readers asked us recently, which are the best WordPress security plugins? So today's post is all about introducing some of the best WordPress security plugins of 2021.
Ironically, the wrong plugin can increase the chances of a successful hack on your website, which is why it's important only to choose well-reviewed and well-maintained plugins from the WordPress plugin library.
But, there are so many different security plugins available for your website. How can you know which one is the best WordPress security plugin?
However, rather than taking weeks to research them, you can review the ones that I've listed in this guide. In this post, we've compiled the ten best plugins to guard your WordPress site from online threats.
Let's protect your website.
10 Best WordPress Security Plugins:
So, take a peek at the list of popular WordPress security plugins:

Sucuri Inc is a globally recognized authority in all matters related to website security, with a specialization in WordPress Security.
But, the name of this plugin alone shows all of the extensive security features it offers. When you install Sucuri Security, you'll benefit from things like:
Sucuri Features:
Security audits
Security hardening
Notifications
Post-hack security procedures
Firewall integrity monitoring
Malware scanning
Blacklist monitoring
Website firewall
Critical features of Sucuri:
Protects your WordPress website against SQL Injections, XSS, and all known attacks
Advanced DDoS protection is available through some plans.
You receive notifications when something is wrong with your website.
Lets you conduct malware scanning.
Effective security hardening
However, if you have questions, problems, or run into any trouble using the Sucuri Security plugin. So, you can reach the customer service team via live chat or email.
Active Installations: 800,000+
Price: There's a free version of Sucuri, and the Pro version starts at 199.99/yr.

Malcare is known to be one of the powerful and comprehensive security plugins for WordPress.
MalCare Security is the only tool we've featured that will help you clean up after an attack with a single click, though you'll need the premium version to do so.
It will copy your entire website to its servers. This way, it can run complex malware detection algorithms that go way beyond all other scanners in the market.
It will copy your entire website to its servers. This way, it can run complex malware detection algorithms that go way beyond all other scanners in the market.
Its Site Management enables users to update themes, plugins, and WordPress core. Also, Automated malware removal cleans your site off malware in less than 60 seconds. The Site Hardening prevents hackers from making changes to your site's files.
MalCare Security Features:
A firewall that bans IPs and malicious login attempts
Automated malware removal
Site Management
Site Hardening
Email notifications
Support services
WordPress hardening
File edit tracking
Brute-force attack prevention
Built-in firewall
CAPTCHA-based login protection
Remote malware security scanning
Active Installations: 100,000+
Price: You can try out the malware scanning with a little free plugin at WordPress.org. The Pro version starts at $99 per year.

Wordfence is a plugin with some fantastic security features that protect your WordPress site without you having to spend a cent.
Wordfence Security is one of the most popular WordPress security plugins, and for a good reason.
With over 4 million people using this popular security plugin, the solution can detect any of the website's WordPress vulnerabilities. Wordfence has one of the most impressive free WordPress security plugins out there.
It offers several features to help protect WordPress sites against the attack and to recover from a successful attack.
Wordfence Features:
Basic security hardening
Two-factor authentication support
Real-time traffic monitoring and analytics
Source code change monitoring
Malware scanning and file integrity monitoring
Protecting against the use of passwords exposed in data leaks
Automated blocking of suspicious/malicious traffic and known malicious IP addresses
Wordfence is still one of the most popular WordPress security plugins and does a relatively good job protecting your site.
Active Installations: 4+ million
Price: Wordfence is a Freemium plugin. The premium version of the plugin starts at $99 for a single site.

All in One WP Security & Firewall is a comprehensive, user-friendly, all-in-one WordPress security and firewall plugin for your site.
The interface is straightforward to use, and you don't need to be a technology or security expert to figure things out.
However, it helps add some extra security and firewall to your site by using a security plugin that enforces many acceptable security practices.
Furthermore, the plugin tells you which actions you can take to improve your WordPress website's security.
Each security feature is segmented into three categories:
Basic
Intermediate
Advanced
It reduces security risk by checking for vulnerabilities and implementing and enforcing the latest WordPress security practices and techniques.
The All In One WordPress Security plugin will take your website security to a whole new level.
It offers security functionality divided into a dozen different categories:
All in One WP Security & Firewall Features:
File system security
Blocklist functionality
User login security
Front-end text copy protection
Firewall functionality
User account security
Database security
Brute-force login attack prevention
Security scanner
User registration security
Comment spam security
Active Installations: 900,000+
Price: This plugin is entirely free. There's no premium version, which means you get some more popular features without the high price tag.

iTheme Security is a premium WordPress security plugin that protects websites by blocking suspicious users and preventing brute force attacks.
So, Instead of putting its core focus on malware detection and cleaning, it just focuses on WordPress hardening instead.
All of their tools offer an easy-to-use interface for brute force security protection and more.
But, unlike the other plugins we've looked at so far, iThemes Security doesn't offer as many free benefits, so it's in your best interest to upgrade to the pro version if you're going to install this plugin.
However, iThemes Security gives you over 30+ ways to secure and protect your WordPress site. The free version conducts malware scans powered by Sucuri SiteCheck and provides tips to address any detected vulnerabilities.
The free version comes with basic security, but you won't have access to the pro features, such as:
iTheme Security Features:
Two-factor authentication
Google reCAPTCHA
WordPress security keys
Password security and expiration
Scheduled malware scans
File comparisons
User action logs
Importing and exporting capabilities
It comes with file integrity checks, security hardening, limit login attempts, vigorous password enforcement, 404 detections, brute force protection, and more.
Active Installations: 1+ million
Price: iThemes Security Pro starts at $80 per year for Single Site.

Another popular all-in-one solution on our list for the best WordPress protection plugins is Jetpack.
Jetpack is not just one of the top WP security plugins, also a combo pack of almost every essential feature for WordPress functionality. It offers a comfortable, all-inclusive solution for site security, performance, and enhanced content management.
This well-known plugin lets you quickly scan your website for security vulnerabilities and has over 5 million active installs.
The main reason why so many people have heard of Jetpack is that Automattic built the same company that made WordPress.
Now, every installation of WordPress comes with a Jetpack!
Features That Make Jetpack Worthy of this List:
Real-time backups save every change you make to your website.
Easy site management & maintenance option due to auto-update features of plugins
Get priority support about any issues from WordPress experts
Alerts you via email the moment it detects that your WordPress site is down
Protects your site against brute force login attacks, spam, and harmful malware
Plugin updates are managed entirely through Jetpack
You also get downtime monitoring
Active Installations: 5+ million
Price: The free version of Jetpack includes basic WordPress security features. The Security Backup Daily plan starts at $7.95/month billed annually.

Want to have a proficient, all-in-one WordPress security solution? You cannot go wrong with Bulletproof Security.
So, if you're looking for a more advanced and hands-on security plugin, BulletProof Security is a suitable choice.
Moreover, the solution protects the database & backs it up, and mitigates the chances of affecting website security and speed by scanning the .htaccess file.
With its one-click installation wizard, installing and setting up the plugin itself is easier than ever.
But configuring it could be a little tricky as its interface might not look too user-friendly for all.
This plugin is straightforward to install and get up and running in just a couple of clicks. The free version of BulletProof Security gives you access to features like the following.
BulletProof Security Features:
Security logs
Database restores
Security monitoring
Anti-spam tools
Malware scans
Database backup
Anti-hacking tools
The free version of BulletProof Security is quite capable by itself, and the pro version nearly doubles the number of available features.
Active Installations: 50,000+
Price: Freemium, with a premium plan having a one-time fee of $69.95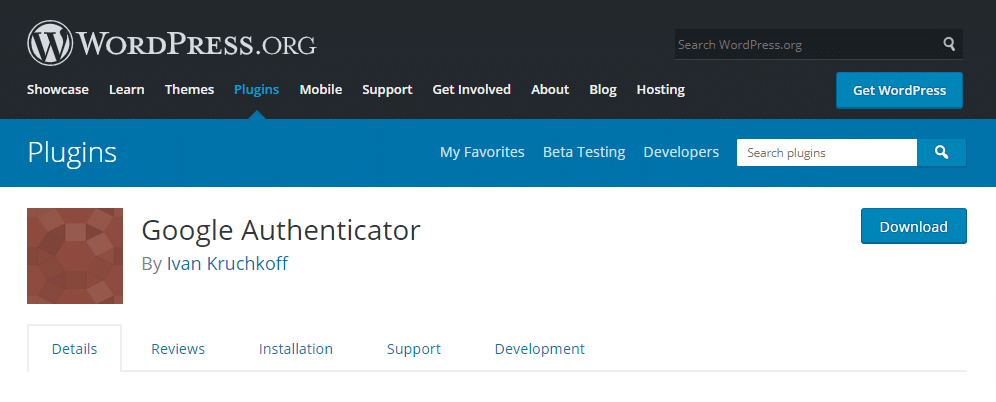 If you're on a tighter budget but still want extra login protection, Google Authenticator is a free, simple solution.
The Google Authenticator plugin adds a second layer of security to your login module, which is crucial since most hacking attempts happen with the login.
Surprisingly, two-factor authentication isn't a given for most free WordPress security plugins.
Google Authenticator makes it a lot more difficult for anyone to get into your WordPress dashboard.
So, setting up two-factor authentication for extra security is an excellent idea to keep your website secure.
Google Authenticator Features:
Has a simple interface and is moderately easy-to-use
Adds an extra layer of security to your login
Lets you pick which type of two-factor authentication you want to use
The plugin has a shortcode for use with custom login pages
Active installations: 30,000+

Security Ninja has been around for over seven years now, and it has some of the most comprehensive features ever.
So, if you've ever felt like your site was secure, but weren't 100% sure, Security Ninja can help to keep you in the loop.
Now, it's got a freemium model and has 50+ security checks built into the malware scanner, including file integrity checks, MySQL permissions, and PHP settings.
The free version of Security Ninja only reports problems and does not alter your site in any way.
The Pro version can automatically fix those issues and also adds other tools like:
Malware scanning and file integrity monitoring
The free version comes with 50+ security tests that can thoroughly assess your security status
An application-level firewall (blocks 600+ million known malicious IPs)
Security Ninja Features:
50+ security tests
User activity tracker
Fix security issues instantly with one click
Automatically blocks a long list of known malicious IP addresses
Regular scanning capabilities
Log all events on your WordPress site
You can schedule regular scans
Active Installation: 10,000+
Price: The Pro version starts at just $49 per year for One Site.

Defender is a pretty great plugin for effortless websites that are not currently hacked. The free and pro versions will allow you to harden your WordPress website.
After you install and configure the tool with a few clicks, it immediately goes to work to harden your site.
The plugin takes care of literally everything you need to harden your website's security so that you can focus on more important things like your business.
The free and pro version starts with a list of the most effective hardening techniques for instantly upgrading your WordPress security.
Defender Security Features:
IP Blacklist manager and logging
404 limiter for blocking vulnerability scans
Unlimited file scans
Google 2-Step Verification
WordPress core file scanning and repair
Login Screen Masking
IP lockout notifications and reports.
Active Installations: 50,000+
Price: Plans for Defender Pro start at $5/month. Eventually billed at $60/year.
If your website is vital to your business or manages websites for clients, it makes sense to invest in website security.
So, what's the best WordPress security plugin?
It's tough to name one as the definitive best, but I've been able to narrow down the top ten for you to consider in 2021. It all depends on what you're looking for.
And that's it. Hopefully, this list of the best WordPress security plugins helped give you the info you need to find the best security tool for you.
Do you have any questions about which of these plugins is best for your situation? Leave a comment and let's figure it out together!
Each Security Plugins we feature has been independently selected and reviewed by our editorial team. And All Security Plugins price depends on this article published date.