When we just scroll down a well-structured website, we really like to go through the whole writing. And hope for having some HTML, CSS knowledge to adorn our site like them!
Hence, when you have Elementor page builder, you don't have to be a coding expert.
Designing beautiful, modern, and user-friendly websites is easygoing with Elementor.
The tab is a well-organized web concept to declutter your‌ ‌content‌ ‌and‌ ‌save‌ ‌up‌ ‌some‌ ‌space.
It‌ ‌will attract millions of people and keep them for hours on end by making‌ ‌it‌ ‌look‌ ‌well-arranged.‌
Therefore, you can organize your content in a very effective way by using Elementor tabs widget from Exclusive Addons.
In‌ this article, you‌ ‌will‌ ‌gain‌ ‌knowledge‌ ‌about‌ ‌how‌ ‌to‌ ‌present‌ ‌your‌ tabbed ‌content‌ ‌using‌ ‌this amazing element.‌ Also, the feature that the Exclusive Tabs widget comes with.‌
Let's‌ ‌go‌ ‌for‌ ‌some‌ ‌action!
What is Elementor Tabs Widget?
Tabs are the sections that can be alternatively visible on screen. With the tabs, contents are divided into sections. It reduces the load from a single viewport. Making the web design more organized.
That means when‌ ‌you‌ ‌open‌ ‌the‌ ‌section‌ ‌or‌ ‌tab,‌ ‌information‌ ‌on‌ ‌that‌ section ‌shows up on the viewport ‌immediately.‌
For Elementor based WordPress sites, you can integrate tab design using the default Tabs widget from Elementor.
However, ‌if‌ ‌you‌ want some extended functionality‌‌ for ‌a professional-looking‌ ‌website, you have the Tabs widget from Exclusive Addons.‌ ‌An advanced tab widget with limitless customizable options.
It ‌will‌ ‌make‌ ‌everything‌ ‌look‌ ‌more‌ ‌business-like‌ ‌and‌ ‌ease‌ ‌up‌ ‌customization‌ ‌for‌ ‌you.‌
Oh! Did I forgot to mention? This is a FREE widget from Exclusive Addons!
Why should you use an advanced tabs widget for Elementor?
You can create an interactive feature using an advanced widget like Elementor tabs widget from Exclusive Addons. your readers can experience the following amazing aspects that you will ever find in a web creation tool!
Exclusive User Interface
The capability of using custom templates
Trouble-free navigation
Save the scrolling time
User-friendly layout design
Ease of customization
The ‌structured‌ ‌layout‌ ‌will‌ ‌attract‌ ‌your‌ ‌customer‌ ‌to‌ ‌your‌ ‌site‌ ‌like‌ ‌bees‌ ‌swarming‌ ‌over‌ ‌the honey.
Thus statistics about readers' review suggests – readers are most likely to stick and check out what you are offering. It helps immensely in customer conversion rates too.
Save up spaces on your web page and time of your users
It's always hectic for a user to scroll down a long web page to see the contents. Why not try something new for a better user experience?
Cleave the contents and place them in individual tabs. So that users can easily navigate between tabs. They don't have to scroll down all the way to read the content.
This saves space on the web page. Gives it a fresh look with less crowded contents. Moreover, saves user's time of scrolling.
It may seem like a minor detail, but it can really turn around on-page experience of your web page. Giving an interactive option to users for deciding about the contents of their screen. Think about the amount of time and space it would save.
So, you can utilize the time and space in website making rather than shuffle like a tennis ball!
What does Exclusive Elementor Tabs offer?
The reason that you should use Elementor tabs widget is that you can tailor each tab to work for you.
Exclusive Addons doesn't limit your creativity. You are not limited to the same old daily routine that most of us have to put up with.
These tabs have been known to make the difference between a normal site and a site that has thousands of visitors.
Tabs widget from Exclusive Addons comes with the following features.
Display individual text contents
Show saved templates
Present shortcode on web page
Show title with a stylish icon
Add image with text contents
Include CTA button
These tabs have been known to make the difference between a normal site and a site that has thousands of visitors.
Configure content settings‌ with‌ ‌pride
‌Firstly, you have the liberty to use‌ ‌as‌ ‌many‌ ‌tabs‌ ‌as‌ ‌you‌ ‌want.‌ Then configure them individually to adapt them to your web design.
You can introduce the‌ ‌tabs‌ ‌with‌ titles‌ ‌and‌ ‌choose‌ ‌an‌ ‌icon‌ ‌for‌ ‌them to make it look more interesting.‌
‌You‌ ‌can‌ ‌set‌ ‌your‌ ‌preferred‌ ‌Content-type ‌with the three available types and‌ ‌can‌ ‌appear‌ ‌them‌ ‌in‌ ‌page‌ ‌load.‌
You can show you pre Saved Templates, or can display Short Codes. Set custom content on the tabs when you set the type to Content.
You‌ ‌can‌ ‌turn‌ ‌on‌ ‌Active ‌as ‌default ‌by‌ ‌the toggle to decide the tab to show on page load.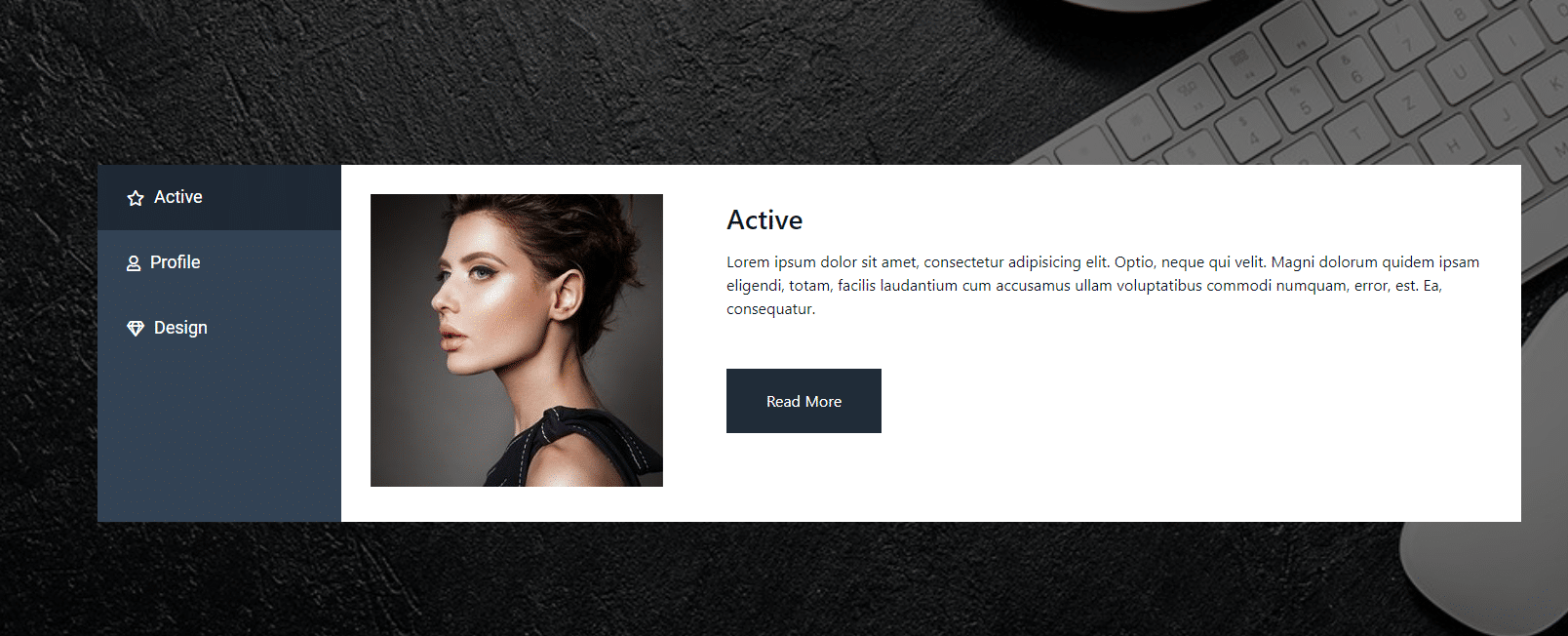 Switch‌ ‌on‌ ‌the‌ ‌"Style‌ ‌tab"‌ ‌to‌ ‌design‌ ‌your‌ ‌tabs‌ ‌with‌ ‌other‌ ‌options.‌
Tabs can ‌be‌ ‌arranged‌ in ‌three ‌different‌ ‌layouts‌ ‌that‌ ‌you‌ ‌can‌ ‌select‌ ‌from.‌ ‌These‌ ‌are‌ – ‌Horizontal‌, Horizontal Full Width ‌and ‌‌Vertical‌ ‌tabs.‌
Using the Exclusive tabs widget, make your tab navigators look amazing with a beautiful design. Tailor the navigation box style, so as the navigation icon/image.
You have the freedom to customize the container area, the way you want. Choosing an image position, setting its display size, and adding a CSS filter is also on your hands. Not to mention about customization CTA button, if you add one.
‌At‌ ‌that‌ ‌juncture, you can say the Tabs widget from Exclusive Addons is the proper ‌tabbed‌ ‌design‌ ‌layout‌ ‌for ‌your‌ ‌website.‌ Integrate tab design using best elementor tabs widget.
Here ‌you‌ ‌have‌ ‌it. After‌ ‌‌configuring‌ ‌your‌ ‌tab‌ ‌and‌ ‌styling‌ ‌it, ‌ ‌you‌ ‌are‌ ‌almost done.‌ ‌‌Stick to the steps and explore more to surprise yourself with the Elementor Tabs widget from Exclusive Addons.
You‌ ‌can either ‌design‌ ‌further‌ ‌to‌ ‌make‌ ‌your‌ ‌website‌ ‌look‌ ‌cooler‌, or‌ ‌you‌ ‌can‌ ‌quit.‌ We mean, enough for today! Best of luck with your next customization.